Friday June 26
Grafton/Port Macquarie
After a mild night, we woke to an overcast sky, which cleared up while we packed the caravan. Bye to our new friends Pam & Mike, and also to Geri & Michael going our separate ways. We took the scenic route to Grafton, a lovely town on the Clarence River. Jen's been wanting to see its famous Jacaranda trees since moving to Sydney 30 years ago. Will have to wait a bit longer, as they don't bloom in winter! I have linked this to how beautiful it looks for those who are not likely to get there. We wandered around a little, had a coffee and took a few pictures.
On to Port Macquarie to stay overnight, where we arrived around 3.45 pm, dropped the van, and headed into the town and walked around the riverfront/mouth around to the ocean side and enjoyed the sunset. It is one of the most popular coastal holiday destinations, especially for families. A few decades ago many Sydneysiders retired here, but just researching it seems that the average age these days is 47. A lot has changed over the past 20-30 years that's for sure – it seemed really quite busy for a mid-winter, off-season day.
A huge NRMA caravan park along the breakwater wall was completely packed -all cabins occupied, and caravans or tents on every available site which are close together. Have never seen anything that big and that crowded in Australia…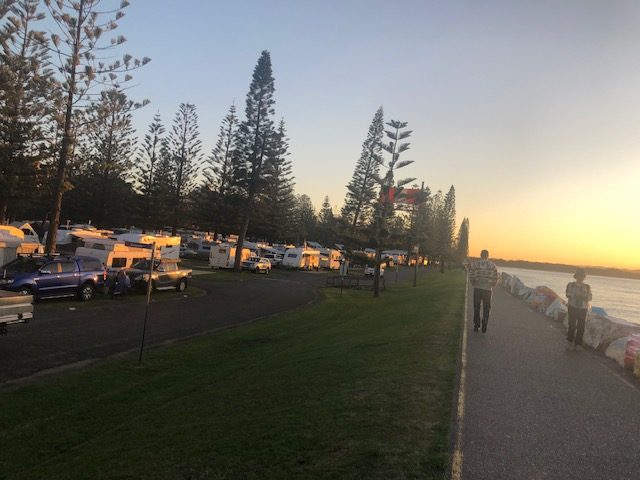 Went for a drive along the coast up to the Lighthouse, and caught the last light over the beautiful hilly landscape Lighthouse Beach (did some camping there in the 90's).
Had a recommendation for a nice seafood restaurant which happened to be a 2-minute drive from our caravan park. Reviews were excellent, so we made a booking and had a surprisingly delicious seafood dinner in a beautiful place on the river (which was dark though) on our last night. Guess it would be a top spot for lunch as well. Last night in the van for a while…. We can start thinking about the timing of our next trip. While we can't leave the country, we may as well enjoy it. Until then!

A few maps:
Woody Heads to Port Macquarie via Grafton
Port Macquarie – home