Well, the parks are open, camping is permitted once again (and petrol is cheap!!) so we left home, which although we love it, has really been our prison for the last 2+ months.
Monday 8 June Crescent Head
We set off Monday morning and headed north, arriving at Crescent Head around 4 pm. Our site proved the perfect spot to watch a fabulous sky with sunset around 5.15 pm. Geri & Michael were not that far behind us, and we enjoyed the view together, as they set up camp beside us.
Fivesies and dinner in our annexe which was nice and cozy, and lit with our camping lanterns. We also brought our little heater so that if needed, we can use it in here when we have a power site. It's a handy room to dry wet clothes..!

We still love our van, even though we were unable to take our bikes with us as we are still waiting for the dealer to assess and potentially fix the rack on the back – booked in for 29th June… 3.5months lead time (not happy about that of course)! Anyway, this three-week trip will just be without the bikes and seeing as the forecast is for plenty of rain, we may not miss them that much.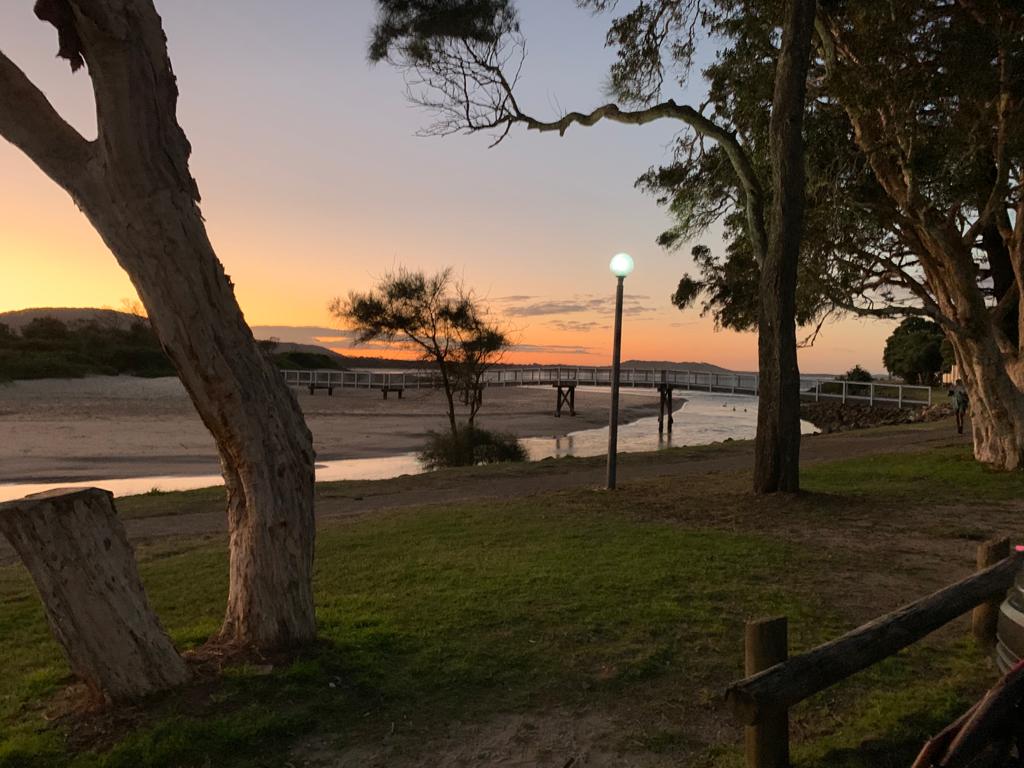 Tuesday 9 June Crescent Head
We started with a lovely little walk around the area of the caravan park; it is a gorgeous place surrounded by hills, surf and a very long beach shaped like a crescent. There is also an interesting golf course against quite a long steep beautiful green hill which provides sensational views
The weather gave us sun in the morning and off and on showers with a pleasant enough temperature. We did various walks during the day, had an ordinary lunch at the local club, and again drinks and dinner at ours. Unfortunately no pretty sunset today…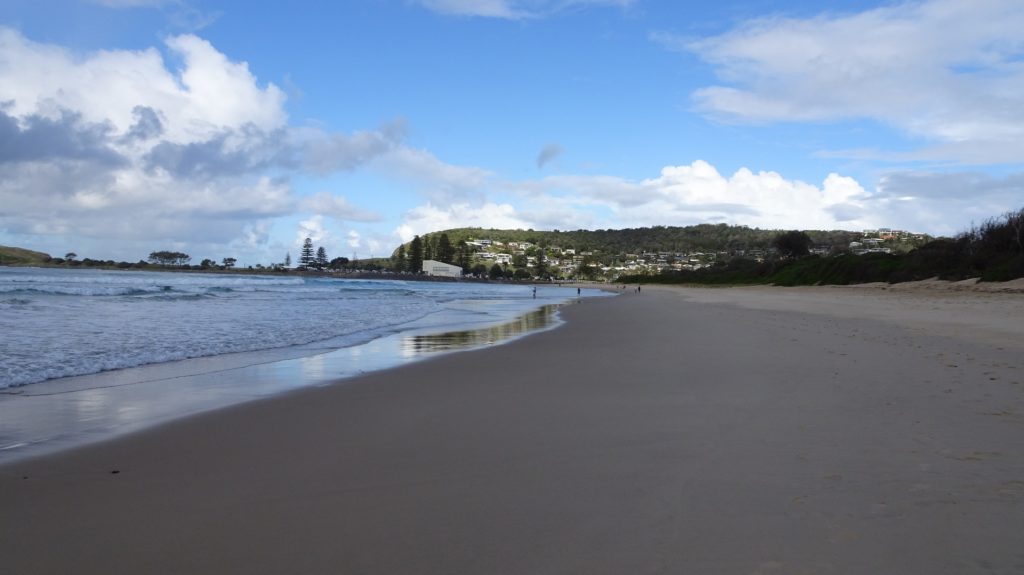 Wednesday 10 June
Today we went for a drive northbound headed for Smoky Cape Lighthouse, hoping to also see a glimpse of a humpback, which have already been sighted this season. No such luck. On to South West Rocks, where we had a really good lunch at the town pub and wandered around a bit. From there we turned back, and visited Trial Bay Gaol, which was an interesting piece of history – it was built as an experiment where inmates in the last quarter of 19th century spent 17 years building a breakwater, to provide a safe harbour. The project failed miserably and only about 20% was completed, but it sure kept the prisoners busy and really not a bad place to be incarcerated!
It stayed mostly dry, cloudy and with a breeze today, with a balmy temperature of 18-20°C. We did not see the sun at all, so I don't hold much hope for a pretty sunset… Tomorrow morning we pack up to head a little further north to Bellinger River.