Friday 9 September: Townsville – Magnetic Island
After arriving at 11pm at our hotel in Townsville last night, we get up early to bring our car in for its 15K km service; this was originally scheduled for Monday at home, but as this was not going to be feasible with our changes, we scheduled it for here instead. We've also organised for the service guys to take us to the ferry terminal, so we can go to Magnetic Island for the day, while we don't have any transport to our caravan (it's 35 minutes outside of town/airport). Eric the driver is a gem, and promises to collect us when we return.
Magnetic Island is beautiful. Absolutely lush, tropical, palm trees, easy living, everything is possible etc. What a great place. Arno booked a scooter, and we quickly turned that into 2 as we don't need a motorcycle licence (Jen no have), given these are only 50cc scooters. The ferry ride across is great, we saw dolphins, and when we sailed into Magnetic Island's harbour, a little rock wallaby was sitting on the wall to welcome us. We had breakfast in a typical tropical island vibe cafe, explored the island, happy we didn't get an ebike, as the walks are all in a part of the island not accessible to pedestrians or bikes. Having the scooters gave us control over our time, and what and how long we wanted to spend where we went. We did the Forts Walk, which gave us a good 1.5 hour exercise, badly needed after the 50 hours travelling (admittedly 17 hours of these were just spent from Sydney to Townsville thanks to delays, cancellelations, change of airline etc). We saw koalas in the wild, an owl somewhere hidden in a tree trunk (don't know how ANYONE ever saw that one), learned about the military WW2 use of this island and enjoyed the magnificent views from everywhere towards that blue water all around.We loved everything about this island.
Upon our return to Townsville, Eric took us back to the dealer where our car is ready in perfect order, and we headed to Kelso (via the supermarket for a big shop) to our van on the beautiful property of kind Sue and Tim. We had a drink with them and then a really early night as we were both exhausted.
Saturday 10 September: Townsville – Charters Towers (140km)
We drove back to Charters Towers (we had lunch and a few hours stop on our way to Townsville a few weeks ago) and this time we stopped here for the night to do some laundry and to have luxurious showers. Arno gave the car a good wash, and Jen walked the shopping street again, but almost all the shops were closed Saturday afternoon, so not much happening. There is a Towers HIll with lookout which promises a lovely sunset view, and some old gold mining equipment but we were just not up for these attractions this time round, so just had a very nice relaxing day. Think the last 2 weeks and the long return trip from the Netherlands may have worn us out a little…!
Sunday 11 September: Charters Towers – Emerald (477km)
It was a warm night, but the morning is a lovely 20 degrees and it promises to be a cracker of a day. We have an early start, with the plan to drive and see how far we get as this stretch doesn't really have any towns until Clermont, some 360km south. A bit of a shame to be sitting in the car in this beautiful weather!
The road around Balyando to Clermont was, as commented by various FB group and wikicamp members, pretty bad with many humps and dips, a bit of a rollercoaster ride to be honest, taking us back to the Winton-Hughenden experience a few weeks ago. We stopped at Clermont for some lunch at the pub (huge chicken Kiev for Arno)!
We arrived in Emerald around 4.30pm where we landed in a different park from our previous stay a month ago; this time in a great caravan park that also has a separate huge camp for self-contained RVs, very cheap but still with use of all facilities. Pick your own spot. We didn't even have to unhitch. The park also has a very popular fish & chips kiosk, but after today's lunch we settled for a nice salad with hard boiled eggs.
We talked to Phil and Deb who are away from Little Hartley, doing some volunteer work. Given we will miss our visit to their home this trip, we planned to visit them in Grafton. and then travel home via the coast.
As we'd now decided on our route home, we worked out the kms we'd be travelling, and still be home on the weekend. Still quite a distance to cover (roughly 1800kms) and on the roads we are travelling, we generally average around 60km/hr so this will mean single night stays at the places we'll visit.
Monday 12 September: Emerald – Theodore (337km)
Took the opportunity to pop in at Woolworths as they are really only found in the larger towns. Then set off for what we thought would be a leisurely drive to a place called Theodore.
Travelling on the narrow road to Theodore, our UHF suddenly announced: "5.2 meters wide coming westbound" (we were travelling east bound). A few seconds later a pilot car (like in the picture below) came towards us with flashing lights, and a few seconds later advising 'Caravan hasn't braked but not pulled over'. We'd obviously slowed down, and were of course frantically looking for a safe place to do just that! We managed to find a slight tight gravelled extra metre to pull over on, with a steep runoff down..! Anyway, we let them know that we'd had (pulled over) and got the thanks. Shortly after, the huge truck (also partly off the road on his side) accompanied by two police cars and another pilot car came barreling towards us. As we were so busy holding our breath and crossing fingers and toes, neither of us actually saw what the truck was hauling.
The total width of the road didn't look wider than 6.5m with NO SHOULDER, hair-raising stuff. Still not sure how we fitted, but the driver sits up high and with their experience can probably gauge whether it will work or not (or otherwise not too concerned if our mirrors or part of the van gets swiped..!)
It's actually quite amazing that after the thousands of kms we've travelled, we've only now come across this. Immediately retracted all thoughts about the UHF being an overkill.
We've seen a few more of these huge hauls on the roads since this one, including helicopters and heavy mining equipment, here are a few pictures to give an idea of what we've come across. The load in the pictures was 8 meters wide, we were very happy that we did not encounter them on our way.
We arrived in the tiny tidy and pretty town of Theodore where we found a nice power & water site at the Showgrounds. The town has another very popular free campground and a lovely park along the river at a dead end road. Population: 600
The Showgrounds are located at a junction where trucks stop for a coffee and, we noticed with great interest and fascination, it is also used like 'shunting'… ie traffic waits there for wide load carriers, and we certainly saw a few.
Tuesday 13 September: Theodore – Miles (224km)
As mentioned in yesterday's post, if we thought 5.2m was wide, we had a few more surprises coming our way, however the road we are on today is much wider and even has an allowance of around 50cm between 2 centre lines.
We camped just north of the town of Miles, a great spot near the bridge over the river into town. It is on the main drag, but at night time it is quiet when the truckies also get their sleep.
We used the UHF in the past 2 days more than in the entire 2.5 years we've been caravanning!
We visited the Historic Pioneer Village Museum, which has been authentically set up, with original buildings (eg a butcher, baker, barber, post office etc) all transported to this location.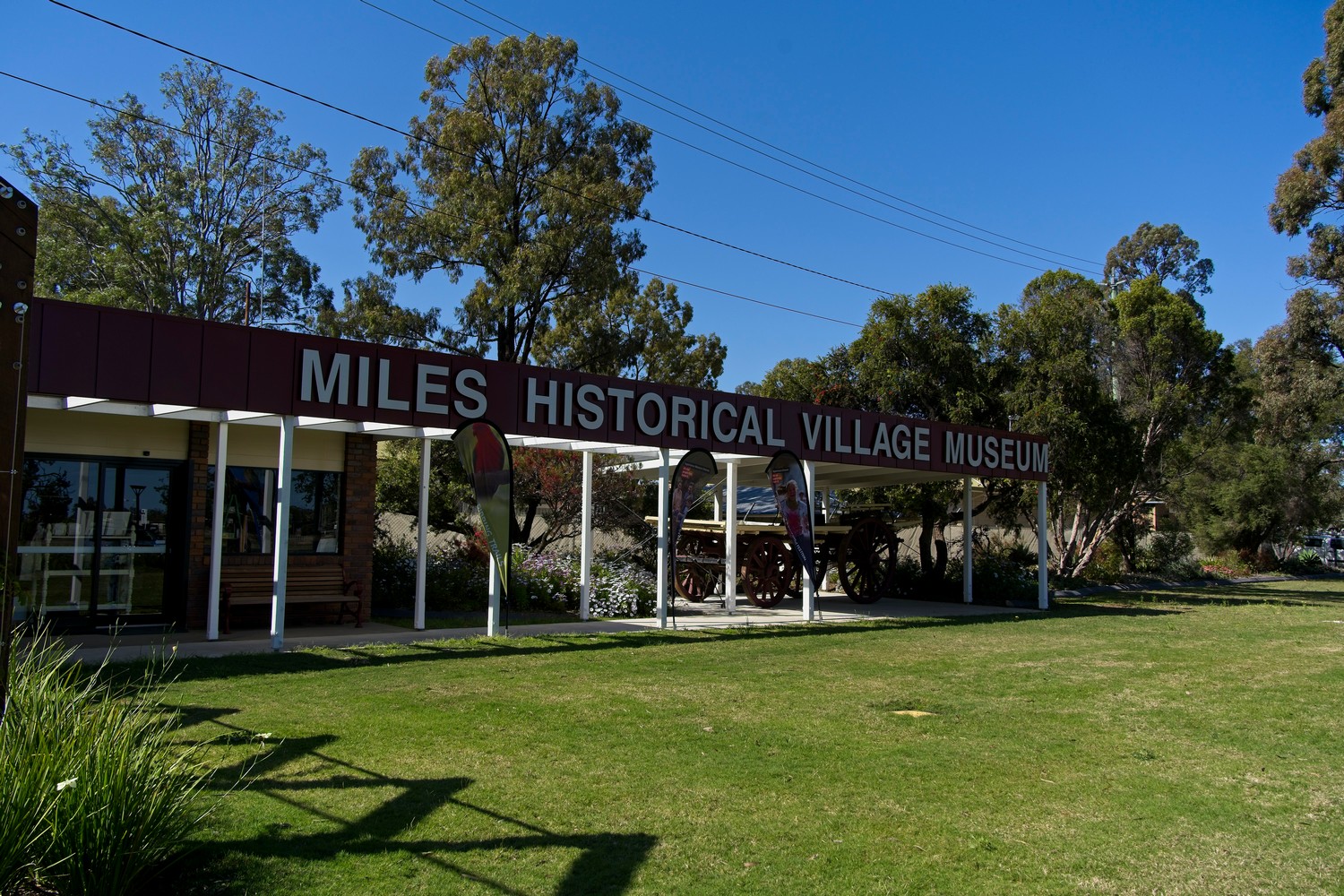 Wednesday 14 September: Miles – Toowoomba (214km)
Stopped at Chinchilla, famous for its watermelons, with an annual festival to celebrate this fact. It's a pretty town and we are really noticing that spring has arrived, with flowers everywhere.
Toowoomba is a bit of a shock to our very relaxed small town attuned systems, a fair-sized city with a lot of traffic!! And to be honest, not exactly warm or sunny….! But all the blooming flowers and bushes more than makeup for the noise and chill, and the town is lush and green with many parks.
We grab a site at one of the city's van parks, have a bite to eat, and subsequently make our way to the Cobb & Co museum. We have been seeing the name Cobb & Co in various other places during our travels; it was a very famous company that made carriages in the 19th and early 20th century. There were so many different ones in this, the main museum, and using some old letters and photographs, the museum had woven a fun story consisting of short little snippets in front of selected exhibited carriages.
Cobb & Co was a thriving business in several countries around the world, including USA and South Africa.
7 southern cross windmills flank the museum.
We drive up to Picnic Point Parklands for the stunning views over valleys, and mountains. In this park again, the beautiful flower beds (even with tulips!) are a mass of colours, and the various bushes like jasmine and wisteria gave off their fragrance. Here's hoping our garden at home is looking as happy!
Late afternoon the sun did come out, and we sat out of the wind in front of our caravan comfortable in short sleeves. As we'll be going to the pub tomorrow night with Deb & Phil, we eat at home tonight.
Thursday 15 September: Toowoomba – Grafton (420km)
A long way to go today, mostly on very narrow, potholed covered winding roads with much (necessary!) roadwork. But there is no other traffic, and so we slowly make our way south east towards the NSW coastal region. Once we pass Kyogle there is more traffic and the road is in much better condition. Kyogle has a large and surprisingly busy town centre, it looks to be a bustling place. We decide to keep going and have lunch in Casino, only another half hour further. We stopped there some 6 weeks ago too, after leaving Woody Heads on the coast. We arrive in Grafton around 3pm, and meet up with Millie who comes running out wagging her tail followed by Deb who is on 'camp duty' ensuring everyone gets a decent meal. Phil is part of the team who repair/replace flood damage on properties in the surrounding area. He comes home an hour later, and we catch up on our latest, and hear all about their volunteering experience. As always, a great get together, finished off with a little port in their new, warm and cozy annexe.
Friday 16 September: Grafton – Bulahdelah (372km)
Stopping at the coastal little holiday town of Nambucca Heads for coffee and an early lunch, we are on the motorway for the first time in a long time heading south to Bulahdelah. But it's a lovely sunny day, and we take the 'Lakes Way' scenic route from Taree to Bulahdelah. This is quite a scenic route, and takes us through Tuncurry and Foster, and along the lakes, and beaches of this beautiful area, surrounded by hills. Had also hoped to see the largest tree in NSW, the Flooded Gum, aka the Grandis which is along the way, but NSW National Parks are doing some maintenance and storm repairs, and it is closed at this time, unfortunately. Next time. Bulahdelah is one of those towns that have become victim (on one hand) of the new highway bypass, but also have gained some beautiful peace and quiet, and its location on the river makes it a perfect gateway to the Myall Lakes, so boating and houseboat holidays are big.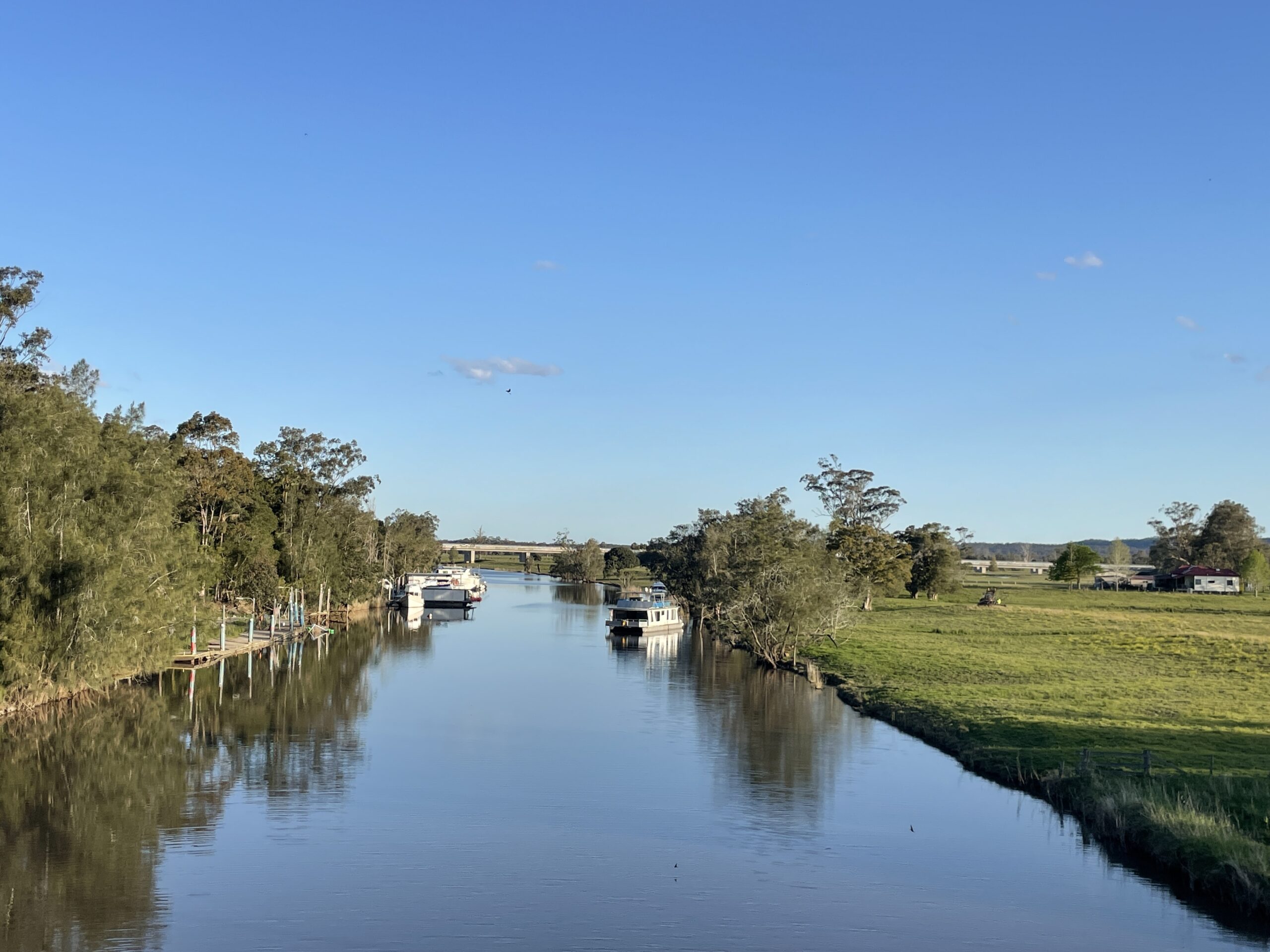 The caravan park we've booked is one we normally don't pay for, as it's aimed at families with kids (jumping cushion, pool, etc) and therefore you pay for stuff we don't need, and as it's Saturday, we notice it's quite full with families, but it's nice to have some young life around us, and we're happy as it's a great place with live music, big speakers so we can sing along in front of our van, and enjoy the sunset over the river. It has cooled off considerably once the sun is down, but it's a lovely night with a beautiful sunset over the river. Our last one of this trip; tomorrow this time we'll be home again.
We are unsure when we'll travel again, as the delivery date of our new van has been moved back, which makes planning the next trip not possible at this stage. But until then we'll close this off, thanks for reading, and all your comments and feedback along the way!
One more detail: We did just over 7500 Km on this trip!