Saturday 13 August: Emerald – Lara Wetlands
A (for us) very early start to cover a decent distance to Lara Wetlands. It started to rain about 20 minutes before we left and we left it behind as soon as we hit westbound Capricorn Highway. The Capricorn highway runs east – west, close to the Tropic of Capricorn from the coast as fas as Barcaldine. Along our route we see countless pointy ant-hills, very curious. Many are dressed up either to resemble scarecrows (we think) or funny looking humans with hats, caps, capes or t-shirts and accessories! Whoever decided to dress these ant-hills certainly made our trip very entertaining!
Today's stay at working cattle station Lara Wetlands is a short side trip south, highly recommended by Phil & Deb (especially for the Saturday atmosphere with live music) and the many reviews on WikiCamps app. The 13km gravel/corrugated road was not ideal (bump bump & dust…) and cows holding us up on the road as well (they really thought it was their home), but it was worth the destination.
Lara Wetlands is a really lovely and unusual campground. The wetlands consist of a very shallow, large lake filled with grey, dead ghost gumtrees and some creeks feeding into it. A pathway all around it and campers just behind that. Birdlife in abundance! The lake's circumference is around 2km, which can be covered on foot, or by pushbike available to use; or you can grab a kayak to get up close to the birds. A hot (38degrees) artesian pool and a cold small dam is also on the grounds for communal use.
Pretty in the dark with a clear starry sky and dotted fires all around the lake. We had a full moon but it came up well after dark so we enjoyed both stars and moon. Live music made for a fun time and we sat with our low chairs and the table Arno had made, that evoked many admiring comments from the 75 people passing us on their way with their bowl/plate to collect their pre-ordered 3-course meal. We hadn't brought enough cash with us, but certainly enjoyed the fun, and were spoilt by the team who set some delicious hot buttered damper on our table… even Jen forgot her ketogenic diet for that!
Sunday: Lara Wetlands – Lake Dunn
Making our way north, back towards Barcaldine where we stopped only for an awful take away coffee, and crossed the Capricorn Highway which we have been traveling along to do our next side trip. This one is to admire some art, in the form of a sculpture trail. The sculptures are almost all done by one artist who is inspired by 'the characters and animals around us'. She uses barbed wire and recycled steel materials for her work, and turns them into expressive pieces that stand alongside the single lane road between Aramac and Lake Dunn, and continues as an unsealed road in a loop back to Barcaldine. Cleverly done and expressive, some fun sculptures.
We cover the first 67km and some 15 sculptures and arrive at Lake Dunn where we drop the van and continue for another 23km on the unsealed sculpture trail for a just few more.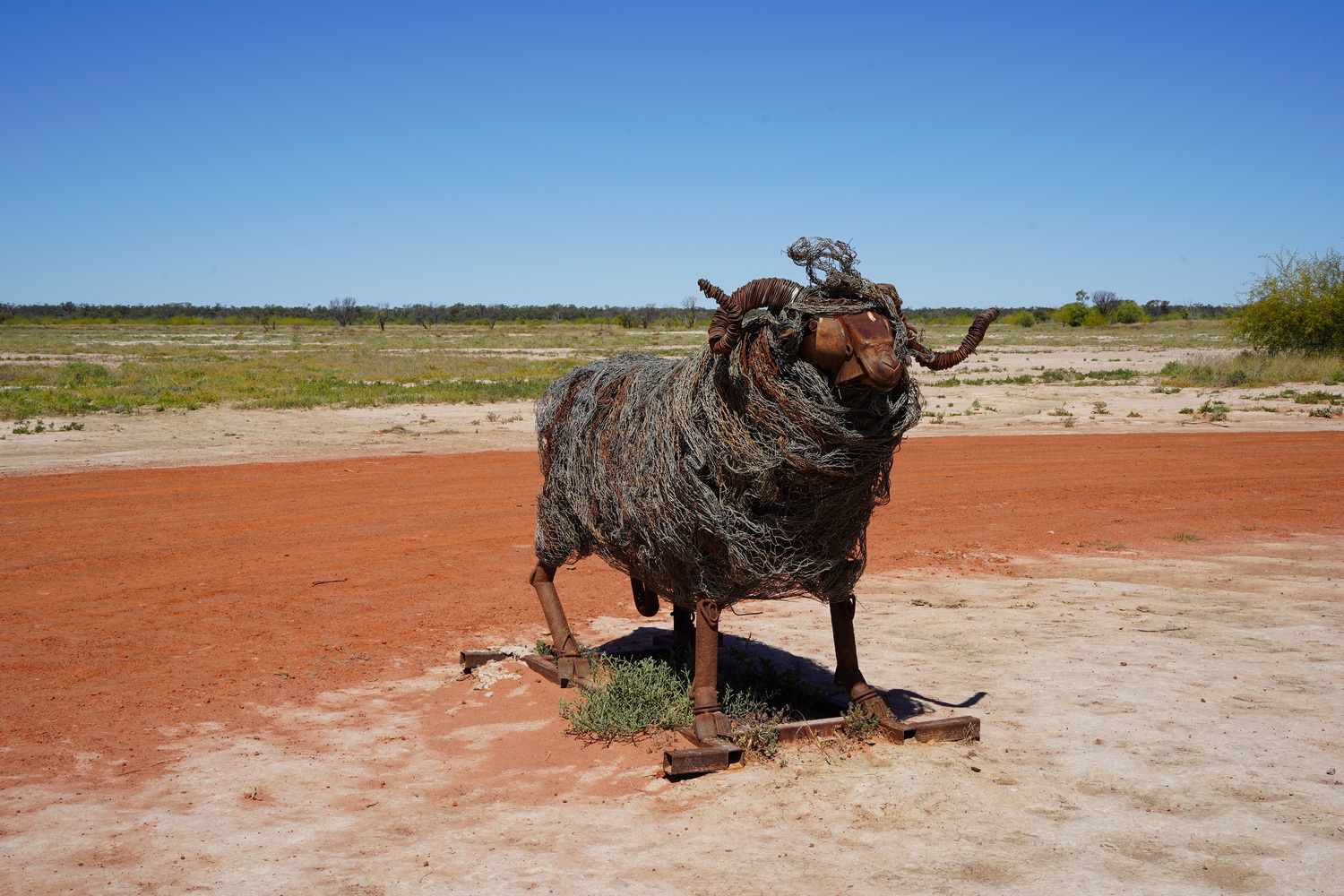 Back at camp we sunbake along the lake in beautiful 25degrees. It's a campground run by the council on this big lake Dunn, which also has a milky colour and very peaceful. We meet up with our friends from Carnarvon Gorge again (who had first mentioned this trail to us), and spend another few enjoyable hours around the fire…