Wednesday 3 August Goondiwindi – St George
Woke up to rain, which had not been forecast but it stopped while packing up.
We are now heading further west on the way to St George, while the McIntyre River (also the changed state border line) starts going south, so we will now stay in Queensland until we make our way home. There is more cotton alongside the road, which peters out after about an hour, to return further along again. And just like that we have blue sky and 26 degrees!
Not a lot of traffic but this is a main road for the grain and cotton transport and we see mostly caravans (😉) and road trains. Not hard to see where all the loose cotton comes from with those trucks flying by with open-sided bales!
By the time we made a little southern detour to the town of Thallon to discover more silo art, the temps had climbed to 27!
This moving further inland brings with it more red soil for sure and though it doesn't seem tooooo dusty, I'm prepared to wipe down the inside of the van on arrival… never mind, that's what outback Australia has on offer…
The sheep along the road are sheared (looking so skinny!) and unfenced; we were glad to see they have enough sense to run from cars when they wander too close to the road (I generally have great admiration for their lowest of low IQ 😂).
Heading back from the silo art, we stopped at Nindigully Pub, Queensland's oldest pub still in its original condition (1864) on the Moonie River. It's a sprawled out building on acres of red ground… think Crocodile Dundee type of pub… lots of paraphernalia in and outside in the huge beer garden with a fire pit the size of our caravan (well, sort of; you get the picture).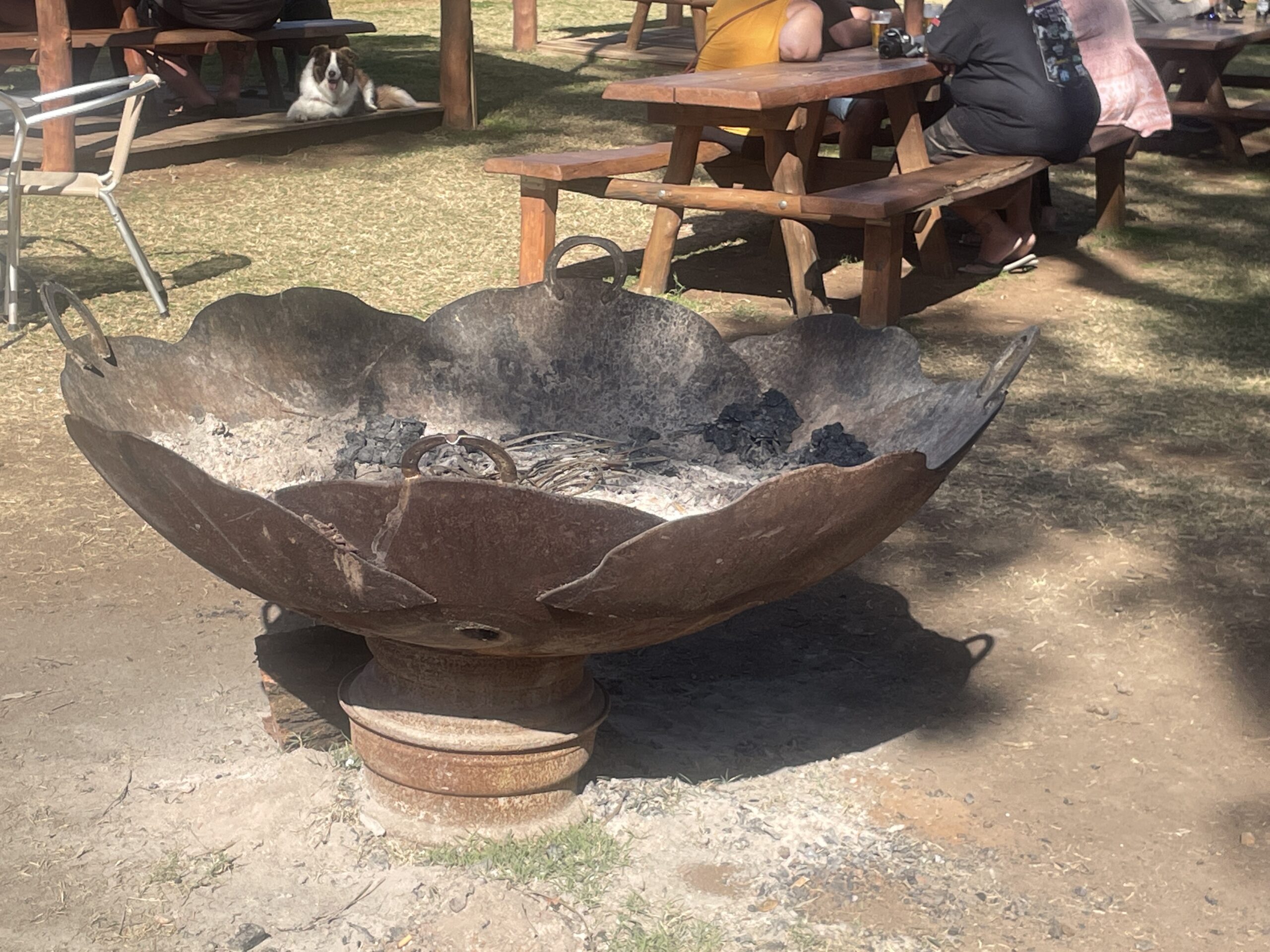 Arrive in St George at the most idyllic campsite about 6km north of the town, alongside the Balonne River. The sites along the water have power (usually the loveliest spots are unpowered), no water hookup but that's no issue. Even though we won't be using the river water for washing up or laundry (it's very muddy) there is plenty of beautiful rainwater from the tank. We booked 2 nights.
We enjoyed another fantastic sunset, a fire and the clearest sky that even Jen's iPhone produced stunning pictures of, but Arno's milky way beat them hands down… The temperature couldn't have been better.
Thursday
Very windy today but again sunny and warm (it reached 28 around midday), and after breakfast we set off to enjoy the town and its history and attractions. Lovely town, similar in feel (many tree-lined, wide, well-sealed roads) as Goondiwindi though smaller. Here too, a lot of information on floods.
The Balonne River is just downstream (ie south) from the Beardmore Dam which regularly spills (like yesterday morning). At the southern end of town is the Jack Taylor weir with a single lane Andrew Nixon bridge on top. The weir was spouting water to rid the overflow; and we noticed the river certainly was lower later in the day than when we arrived some 24 hours earlier.
Tourist information had heaps of stuff, not only of the immediate surroundings, but of much of Queensland, so we stocked up to read up on all the places we want to visit. On checking our timeline, we altered our draft plan and eliminated a few faraway places in Far North Queensland to leave for another trip. There is too much to see and do to rush this one.
We did a self drive town tour and even though it promised a lot of historic buildings, most were replacements in the original locations, so not really old. Arno popped into Steve's Emu Egg gallery, where a blacksmith in a previous life made illuminated eggs.
The walkway along the river was (just like in Goondiwindi) beautifully made accommodating cyclists and walkers for around 2km. Again cotton tours are available, or even self drive tours, sign-posted along the way with all the salient cotton growing facts. There's also supposed to be a river cruise twice daily but given the high winds, we skipped that. Again an impressive sunset, and chili con carne for dinner.
Packing everything up tonight as rain has been forecast overnight and we are leaving reasonably early tomorrow, to travel to drier places (we hope). We have thoroughly enjoyed our campsite at this beautiful location.
Friday – St George – Roma
We woke up to the expected rain, and the (lovely!) hard red soil had turned into red mud… We hooked up and left fairly early. It was an easy 2 hour drive to Roma, and we stopped at the tourist information first. Again there was an incredibly friendly and helpful person, and we obtained more (different!) of Roma as well as detailed maps on the Carnarvon Gorge walks, which is our next destination.
Roma is a nice town well-known for its cattle, situated on the Bungil Creek. It also has some drilling history as a century ago oil drilling was attempted with minimum success, however they did also strike gas, being the first place in Australia where it was discovered. This was more successful, and a gasline to Brisbane was established which is still working.
We set up at a good caravan park (1.5km north of town) and headed back in for a quick lunch at the ultra modern huge pub called the Royal on Ninety Nine, and a bit of sightseeing.
We started with the biggest Queensland Bottle tree, native to Australia with a bottle shaped trunk that holds its water. A whole 'Heroes' Avenue' is lined with 93 of them, where the trees are a remembrance of fallen WWI soldiers. We also checked out a huge (9 metre diameter wheel and 15m high) windmill.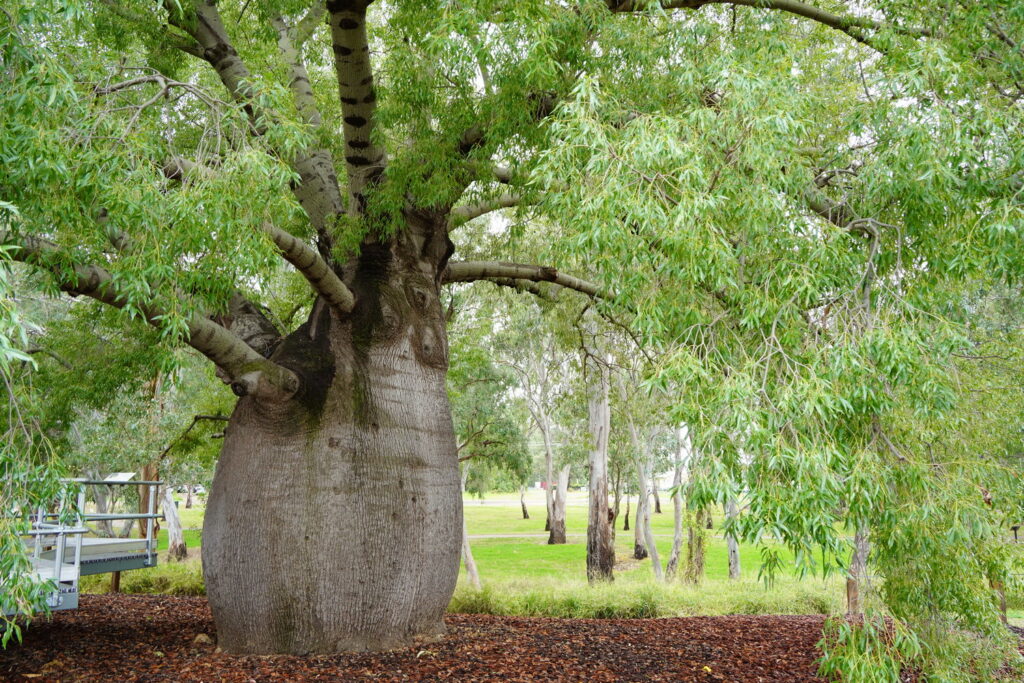 Arno visited a muscle car museum which he felt was not too impressive. It was drizzling a little, and Jen went into the art museum and saw an exhibition of water lilies from every creatures point of view, literally. When we got back to the caravan park, the small number of vans had increased to a huge number (the park has room for 70!!!), and as soon we pulled up, the people right across from us had admired our van, and said, it looks just like Jen & Arno's…. and so it was… Friends of Geri & Michael's whom we spent time with 2 years ago when we were on our NSW north coast trip! We chatted for a bit, and we left to see a sunset show of the 'Big Rig', the history of the oil/gas drilling, which was fun. It drizzled but we had umbrellas, and they gave us a glass of port, so it didn't matter.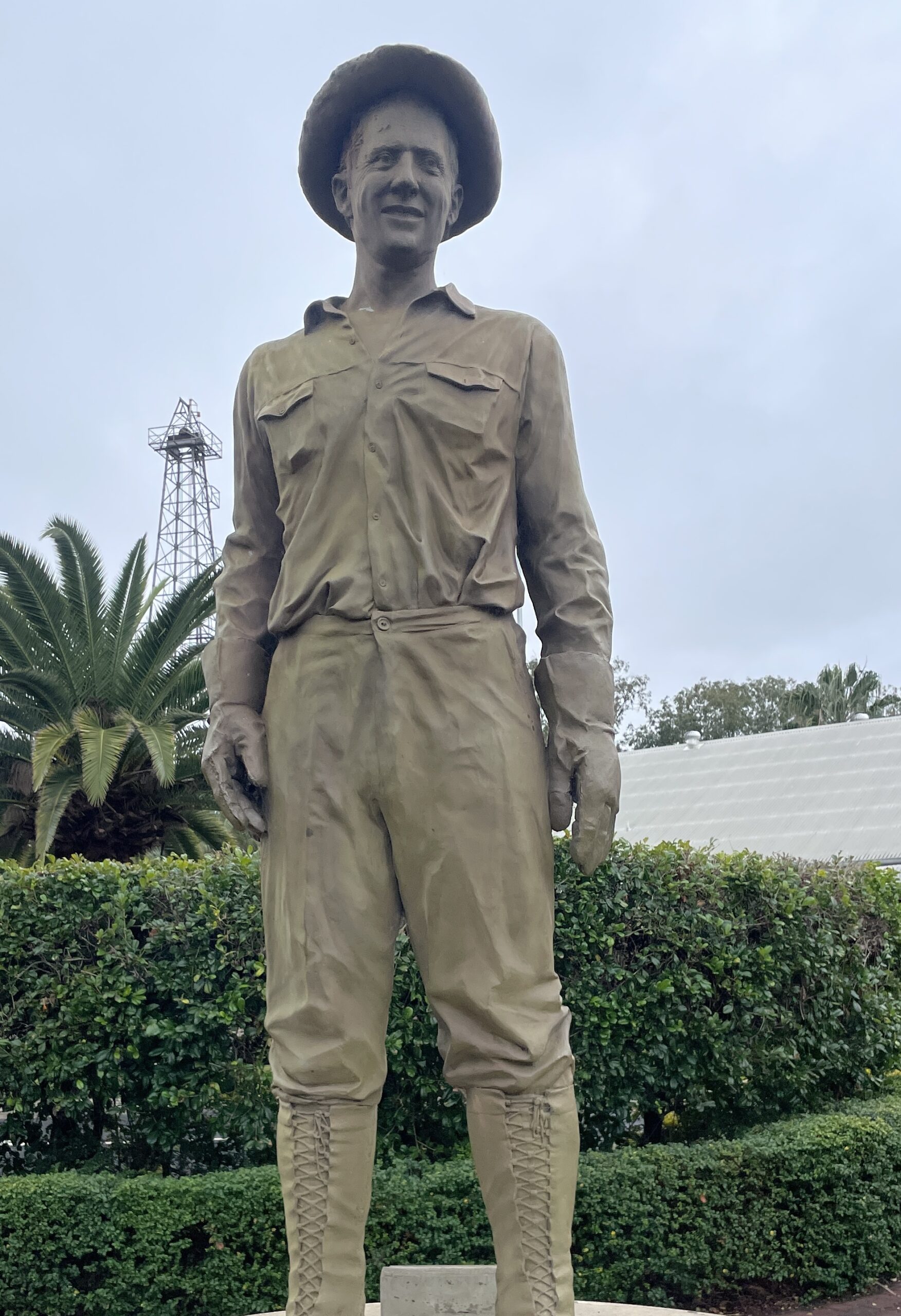 We made it back in time to enjoy a live performer, and an even bigger fire pit than Nindigully Pub and it was lit! It stayed dry, and we caught up with Jenny & Graeme who, just like us, are heading up to Carnarvon Gorge next. We decided we'd meet up there, and do a walk and have a drink or two together.
Saturday
It rained pretty heavily during the night, but stopped around 7am, and the day turned into a t-shirt & shorts day by 10am. Jen took the bike to check out all the parks and the bike paths around town, and was attacked a few times by magpies, which is distracting to say the least. Next bike ride the good old tie wraps will adorn the helmet to ward them off; being passed by a road train while also being swooped by a magpie may just be living a little too close to the edge.
Arno had hoped for a game of golf, but alas there were competitions on, so he washed the car (again) instead! Spent the afternoon enjoying the sun, and updating this blog; being entertained by the park owners Donna and Mat guide all newcomers to their sites in a golf buggy… Think they purposely don't hand out maps of the park, just so that they can drive around in the buggy! They're a good fun couple, and take time to chat, and don't rush anyone. We got the 'Club Hotel"s free shuttle into town and back, for an excellent meal. Tomorrow morning we hope to be able to see the beautiful church inside (after the service) which is normally only open for viewing on tuesdays and thursdays……fingers crossed! Will add a picture later, if that works out. Then on to Carnarvon Gorge