Saturday July 23
And we're off again! This time we expect to make it to Queensland (only postponed twice from July 2020 and 2021) and likely to be our last trip in our lovely van. We expect to take delivery of the new (bigger) one mid September.
On our way back to one of our favourite places from 2 years ago when we did our North Coast trip: Bellinger River. We drove some 4 hours through a fair bit of rain, and arrived end of the afternoon at the caravan park which was pretty well fully booked (dragon boat regatta weekend in the area). We had managed to reserve one of the last spots, right on the (very full!) river, which despite all the rain and recent floods in the area, had not broken, unlike last April apparently.
It had just stopped raining, and we saw no further rain during the rest of our stay there. We discovered the van we're awaiting is very popular, as we saw one at our lunch stop and 2 at the caravan park. Had some good discussions with the owners to find out pros and cons.
We enjoyed a sensational sunset, just like the last time!
For the first time in weeks we threw off our winter doonahs as it was not cold that night, and of course we had not brought thinner blankets (now added to the shopping list)!
Sunday morning we woke up to a beautiful blue sky and sun, and we drove to very nearby Bongil Bongil National Park, did a bit of 4WD and ended up at rainforest and beach for a lovely walk. We had to abandon our first attempt at the 'Bluff loop track' after some way in as it was impossible to cross the deep and wide ponds that had formed following the deluge that so many parts of NSW (and Queensland) have endured. We were not sorry that we ended up just on the track behind the dunes on the 'Bundageree Rainforest walk' as this one was a combination of beach and rainforest. In one part of the rainforest an abundance of elk/stag horns grew high and low, huge and small….
We followed this walk up with lunch at our favourite Raleigh winery where we had been twice before in 2020. Again it did not disappoint; we shared a baked Camembert with nuts, berries and delicious toasts, drizzled with this and that. Arno had the pork belly, and Jen the Barramundi; both meals were outstanding, as were the wines we had with them.
Jen worked off some of the calories on her bike after and found herself on private property which was pointed out by the owners when she complimented them on their most spectacular view of the river…oops! Arno watched the Formula 1 qualification and Jen went to socialise with neighbours (the Avan owners) and enjoyed their beautiful fire and yet another sweet sunset on the mirrorlike river. This stay was the perfect start to our trip, and the place will remain on our favourites list.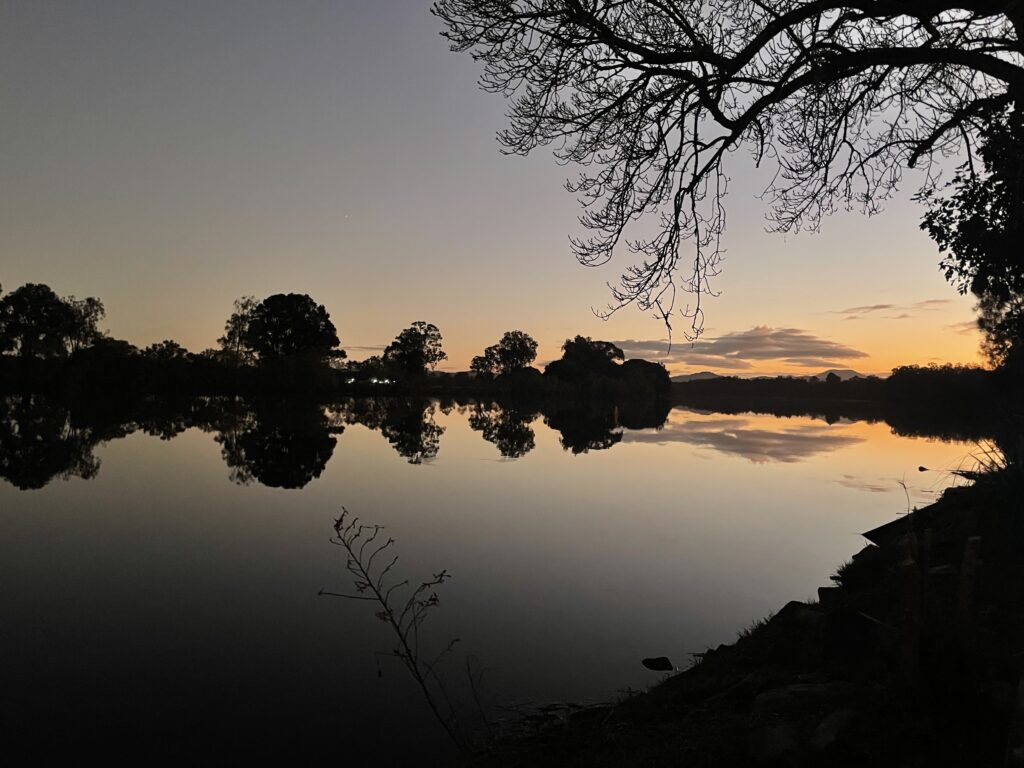 Monday July 25
Again a nice day, and we packed up to head north to Woody Head National Park, another one of our previously visited spots where we will meet up with Geri & Michael who are on their way home from touring 3 months Queensland.
This is not far, and we stopped at Aldi, Kmart & Woolworths to get a few more supplies, (and blankets!) and did a detour via Yamba for a great alfresco lunch, at the Wobbly Chook. Walked up the hill to the lighthouse to enjoy the ocean view with the 2 break walls.
Also saw Iluka (just south of Woody Head) which is across the water and though close, still another 20 minute drive around all the waterways.
We set up the van in a great spot, 2 down from G&M's with top views and sun all day long. The many kangaroos are still enjoying the grass all around us, and the Brush Turkeys are annoying, but keep their distance during the day (sort of).
We had wonderful fire and a real catchup with our friends until fairly late, sharing our bottle of Muscat from the Raleigh's winery that we had enjoyed so much last time. Plenty of stars, and Arno asked our neighbour to turn off his 'floodlight' around his tent that he had abandoned to sit elsewhere around a fire with friends. Then at last, the stars were plentiful. This place is where we first heard of the aboriginal 'emu in the sky' (outlined in the milky way).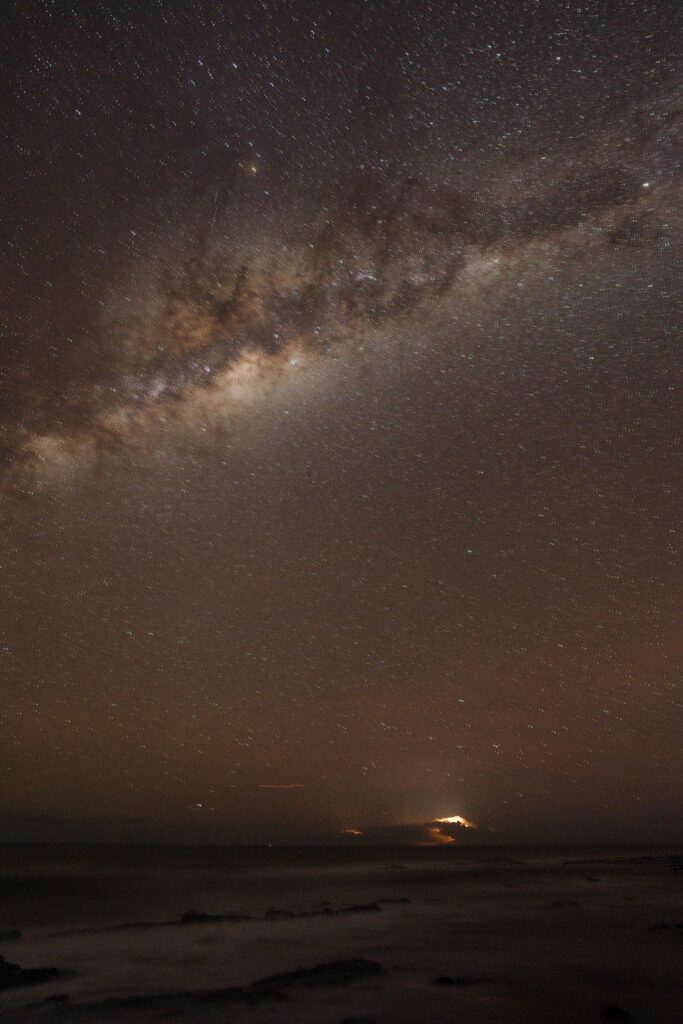 Tuesday
Jen got up early, and saw the very early sun rise over the ocean, then after coffee did the coastal walk over rocks and across Back Beach with Geri, where soon it was too warm for all our layers. Back at the van, it was clear shorts were the dresscode for the day.
After breakfast we cycled into Iluka (about 20 minutes) and had coffee, then around lunchtime enjoyed a beer at the local pub with views over the water. It is not busy and, in this warm (yes, it made 26!! degrees today) weather. We cycled along the water on a beautiful walking/bike path back to the main road back. We couldn't have been luckier with this weather.
Saw a lovely (yeah right!) goanna, that thankfully kept his distance (of around 3 metres).

One more night here, and we'll be off again to our next destination some time tomorrow – the last sunset was stunning once again, until next time Woody Head!